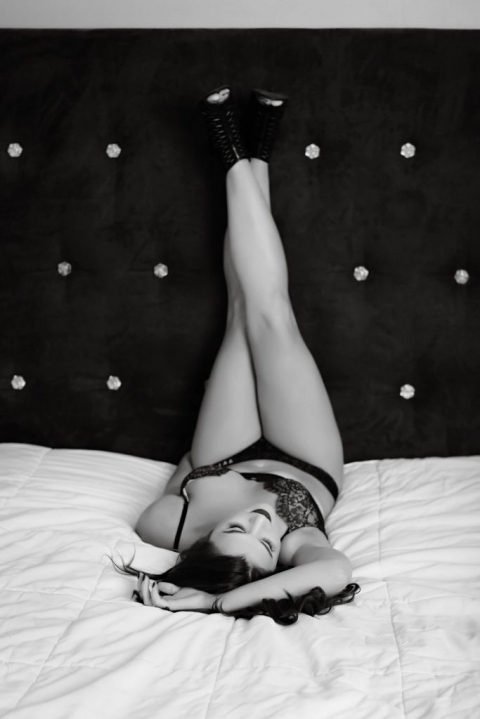 Your boudoir photography session is most likely a once in a lifetime opportunity, so there are several things that you will want to do in order to properly prepare. These things will make the day much less stressful for you, and will make your photos look effortlessly beautiful.
1. Make sure to eat something! I know that being photographed in next to nothing does not lend itself to eating a big meal, but you will want to make sure that you eat something before your session. If your session falls in the morning, have a good breakfast beforehand. If it is in the afternoon, have a light lunch. You will need the energy to be able to make it through the session, and you will want to make sure that you do not run out of steam before the conclusion of the session.
2. Plan to arrive early. The last thing that you want to stress about on the day of your session is time. Be sure to arrive early so that you are able to be relaxed and not rushed and stressed out before your session. Remember, we are going for an elegant, relaxed, beautiful look for your session and if you are overwhelmed or anxious it will show in photographs.
3. Bring a Friend! You will have so much more fun if you have a friend with you- and you will not be as nervous, I am sure. The studio is spacious enough for a friend to come and join you during the session if you prefer.
4. Wear loose fitting clothing to your session- preferably a button up shirt. Remember that tight clothing can leave marks on your skin that will take time to fade. If you wear loose-fitting clothing to your session we can prevent these marks from forming. Also, a button up shirt ensures that we will not mess up your hair or makeup when you are changing into your chosen outfits. Be sure to wear a clear deodorant instead of the white powder kind so that we will not have marks on your outfits.
5. Your makeup should make a statement on its own. It is not required to have professional makeup done before your session, but it is highly recommended! A professional makeup artist knows HOW to apply dramatic boudoir style makeup and will know how much is just enough and how much is too much. A makeup artist also will have the correct photo ready makeup that will be work best with the high resolution camera and studio lighting that I use. I also suggest false eyelashes as these really add a little extra "pop" on camera. Be sure to ask your makeup artist for a sample size of the lip color that they use for touchups during your session. If you do decide to do your own makeup then please research your foundation! Any makeup that contains sunscreen has a reflective quality to it and will tend to make your face look lighter under the studio lighting.
6. Bring some ideas to your session. A Boudoir Portrait session is about you looking amazing for your someone special. That means that YOU are the director of your session. While I have photographed many ladies (and men!) of all shapes and sizes and have lots of poses in mind, it helps to personalize the session if you bring some ideas and your expectations to the table. There is time built into your session to discuss exactly what you are hoping to get from your images. It helps if you bring your outfits to the session and show them to me before we start shooting so that I can think through my posing and lighting options.
7. And MOST IMPORTANT- Have an amazing time! Your Boudoir Portrait session is supposed to be fun. I hope that you will feel comfortable around me and that you will be able to relax and have a great time. Have a glass of champagne, put on some music that really gets you going, and remember that you are fabulous! .